Fitness trackers and smart bands have become all the rage in the last couple of years. Among all the contemporary gadgets, this is perhaps the only one that discourages sedentary routine and promotes a healthy lifestyle. Fitness trackers get more cutting-edge every year, rendering their older versions somewhat out of date.
If you are looking for the latest fitness or exercise tracker, you will get overwhelmed with the host of options available in the market. Making it easy for you to buy the best fitness tracker, we have researched and shortlisted the 12 latest models that will continue to rule this market space for the next year.
But before we move to list down the best fitness trackers on the block, it is imperative to know their different types and what factors to consider before buying a one.
Types of Fitness Bands
Fitness bands can be classified into three types based on these functions.
Heart Rate Monitoring
Heart rate-monitoring smart bands measure the heartbeats by scanning blood flow near the wrist through an optical sensor. By continuously monitor heart rate during workout sessions via a fitness tracker, a person can know how well they are doing.
Fitness Monitoring
Fitness monitoring is a comprehensive action of any smart band where it uses a range of different sensors to measure different workout or fitness-related parameters. For instance, fitness monitoring bands usually feature an accelerometer (for distance), temperature sensor (for body's heat), bioimpedance sensor (for measuring changing skin's electrical resistance due to different workout activities), and an optical sensor (for monitoring heart rate).
Sleep Monitoring
Fitness trackers boasting sleep monitoring usually rely on an actigraph that records the rest and activity cycles of a human body. A comprehensive fitness monitoring band these days also offer sleep monitoring.
Things to Consider Before Buying a Fitness Tracker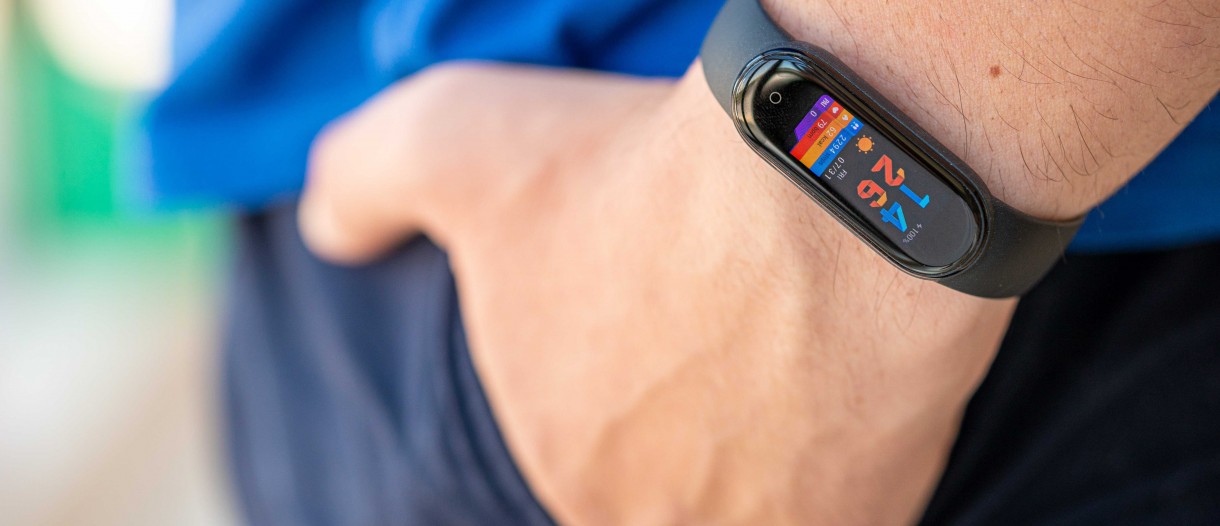 Take these factors into accounts if you want to buy the best fitness tracker for your fitness regime.
Functionality/Usability
Different smart bands offer a different set of functionalities and features. Some only measure heart rate and body temperature. Then there are those comprehensive bands that let you monitor your sleep and track different sports activities and exercises besides running and jogging. When you buy a fitness tracker, make sure it offers functionality in line with your use.
For instance, if you want to track your swimming activity, you need a waterproof exercise tracker that comes with swimming mode. If improving sleep quality is also a part of your fitness regime, you should opt for a fitness tracker that offers sleep monitoring.
Connectivity
If you want to make the most of your smart band, make sure it offers robust Bluetooth connectivity.
Battery Life
Good battery life always makes it easy to keep your fitness tracker operational all the time. Any top-of-the-line smart band and fitness tracker will offer you 5-6 days of battery time with full use and standby time of up to two weeks.
Compatibility
Many fitness trackers are only compatible with specific apps and devices. Therefore, make sure that the band you will buy is compatible with your phone and your preferred fitness app.
Budget
You can find fitness trackers at a full spectrum of price points. You can find ones that will cost you lower than $20. Then there might be a band touching the $100 mark. However, you can find a functional and robust fitness tracker somewhere in between those extreme price points.
12 Best Fitness Trackers
A 24/7 fitness and healthy lifestyle assistant
Boasting great battery time and offering a 1-year Fitbit premium trial for new users, Inspire 2 tracks your all-day activity. Besides monitoring heart rate, distance, calorie consumption, and hourly activity, it also tracks how much light, deep, and REM sleep you get.
Smart band with a bigger and colorful display
It is a smart band with features that users look forward to in the latest fitness tracker versions. It features a larger display area with sharp resolution. Fast magnetic charging also makes Band 5 stand out among other health tracker watches. Apart from using it in 11 different sports modes, you can also use it for 24-hour smart sleep monitoring.
A stylish smart band with a pulse oximeter
With metallic accenting and a sleek profile, Garmin Vivosmart 4 is certainly one of the stylish fitness trackers out there. Besides style, what distinguishes Vivosmart 4 from other trackers is its wrist-based pulse oximeter. It is also 100% waterproof.
A smart tracker with a comprehensive heart rate monitoring regimen
Fitbit Charge 4 comes with a 90-day free trial of the Fitbit premium. The fitness tracker is water-resistant and swim-proof. This latest addition to the Fitbit line also has a feature that notifies you when you reach your target heart rate zones during exercises.
A fitness tracker with a dedicated women's health tracking system
Amazfit Band 5 is one of the most functional fitness trackers on the block. It boasts a fortnight battery life with heart rate, blood oxygen, as well as sleep monitoring. It also provides women's health tracking with its menstrual cycle predictor and monitor.
A sports fitness tracker with color display
This Huawei health tracker watch offers great value for money. It boasts a true color display and features nine sports modes and various smart reminders. You can get it in pink, dark green and black bands.
A sporty waterproof health tracker watch
M3 smart fitness tracker is a simple yet functional fitness tracker that boasts all useful features. It has a unisex design and boasts an IP67 waterproof rating, which means you can wear it underwater and track your heart during swimming sessions.
One of the lightest fitness trackers on the block
This lightweight fitness tracker by Samsung only weighs 23 grams and features all the specs you look for in any cutting-edge smart band. Its battery time is also quite impressive. You can use it for up to 11 days on a single charge with low usage time.
A functional smart band with color display
This is another great addition to fitness trackers by the South Korean electronics giant. Galaxy Fit2 R220 features a curved 3D glass with a color display and sports all the important fitness specs: heart rate monitoring, auto workout, and sleep tracking. You can get it in red and black bands.
The lightest fitness tracker on the block
This Samsung fitness tracker is one step ahead of R370 with its lightweight. It only weighs 15 gm, and the best thing is its lightweight doesn't affect its functionality by any means. From pedometer to sleep tracker and water resistance, it has all the desirable attributes of a good fitness tracker.
A fitness tracker with top-quality built-in GPS
Huawei Band 4 is a complete fitness tracker in all aspects. With its top-quality built-in GPS, you don't have to bring your phone to your fitness outings. Its big screen and sharp resolution also catch your eye at first glance.
A basic yet effective fitness tracker
This M5 fitness tracker has a basic set of features that are enough for any regular folk trying to lead a healthy life. We also like this smart band for its eye-catching matt finish. You can use it for five days in a single charge with full-time use.
Conclusion
We hope that the above discussion and list help you get the best fitness tracker for your particular requirements. If we are to make any suggestion, we would recommend you use Fitbit Inspire 2 for its cutting-edge features and robust construction. If you are on a budget and want something that remains light on your pocket, then Samsung's Galaxy smart bands are worth considering.
FAQs
What is the best fitness tracker?
Fitbit Inspire 2 is one of the best fitness trackers on the block.
Do you need a fitness tracker?
Yes, if you want to quantify your fitness and exercise progress and goals, you need a good fitness tracker.
How can fitness trackers improve your health?
Wearing a fitness tracker keeps reminding you about doing regular exercise and stay away from a sedentary lifestyle.
Is a fitness tracker suitable for kids?
Yes, fitness trackers are suitable for kids with an easy-to-use UI and lightweight and failsafe construction.