Most people don't know this, but the air quality in your home is likely to be worse than the air outdoors. Dust, smoke, pollen particles, spores, dust mites, and so on are present in the air around you.
Poor air quality due to these particles can give rise to a host of health issues including allergic reactions and respiratory problems. Biological contaminants in the air can also cause a wide range of diseases.
A simple solution to get rid of contaminants and improve the air quality in your house is by using a portable air purifier. However, you should know that some air purifier models are better at removing certain types of pollutants than others.
The truth is, investing in an air purifier can make a tremendous difference in the air quality and your daily life. But considering the fact that there are several types of air purifiers by different brands and manufacturers, how do you choose the right one for you?
In this article, we review some of the best air purifiers in Malaysia and we help you choose the best air purifier Malaysia can offer.
Types of Air Filters
HEPA Filters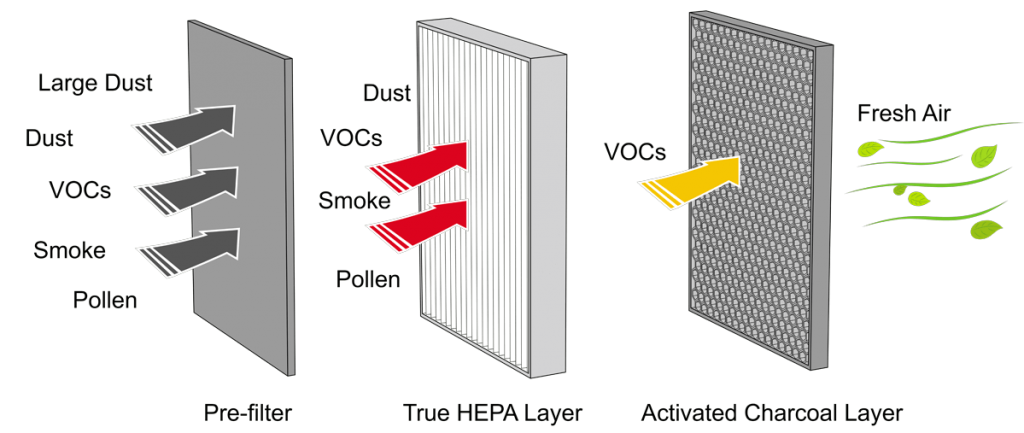 HEPA means High-Efficiency Particulate Air. HEPA filters are considered the gold standard in the air purification industry and the best air purifier typically comes with this type of filter.
Because of their ability to remove major air contaminants even down to microscopic levels, HEPA air filters are commonly recommended by doctors.
They can trap up to 99.7% of airborne particles as small as 0.3 microns and up to 95% of particles of about 0.1 microns. This makes them effective for getting rid of dust, mold spores, dust mites, pollen, and other allergens as well as biological contaminants like bacteria.
Carbon Filters
Carbon filters are added to air purifier Malaysia to help remove odor, chemicals, and odors from the air. They can also help get rid of odour and make the air cleaner. They rarely occur along in air purifiers but many manufacturers add them to other filters to improve the performance of the air purifier.
Ionic Filter
An ionic filter consists of a negative ion generator. This sends out streams of negative ions that attract the positive dust and allergen particles in the air and attach to them. This causes them to become heavy and fall to the ground. Ionic filters remove particles from the air but not from the room.
Benefits of Using Air Purifier
Studies have revealed that poor air quality can negatively affect human health. Breathing in air with poor quality can cause a wide range of respiratory diseases and if you are prone to allergic reactions you are at risk of an allergic attack.
Although an air purifier does not automatically make all your poor air problems disappear all of a sudden, it does a good job of improving air quality and making your room, office, or home a lot more comfortable to live in.
Air purifiers in Malaysia with good filters, like the HEPA filter, can significantly reduce the harmful effects of an environment tinged with air pollution.
What Should You Look Out for Before Buying an Air Purifier?
There are various types of air purifiers and they come in a wide range of sizes and with different functionalities. It is therefore vital that you are familiar with the various factors to consider in buying an air purifier. Some of these include:
Convenience
A major factor to consider in buying an air purifier is convenience. A portable unit will be easier to carry or move around your home than a large unit. But the size is inevitably connected to how much coverage the unit can give you so you have to consider this as well.
Affordability
A very vital factor that determines the type of air purifier you can get is your budget. Fortunately, there are several pocket-friendly options and you should be able to find one that fits into your budget perfectly.
Easy-maintenance
Finally, you want a unit that is easy to maintain. Most air purifier units have filters that need to be replaced regularly. If this will be too much of a chore for you, consider IFD filters that do not need replacement although you will have to clean them regularly.
Best Air Purifiers in Malaysia
The models below include some of the best air purifiers in Malaysia to date.
The Philips Air Purifier 800 Series AC0820/30 air purifier is a portable but highly effective device. We love the simplicity of this air purifier. It features just a button which makes effortless control possible.
This device is inbuilt with a professional-grade sensor which allows it to detect slight changes in the air for effective purification. The unit's 3D air circulation also ensures quick and effective cleaning results.
This device measures the air quality in a room accurately and a 4-step color indicator shows the real-time air quality at any given time.
Pros
Cons
– Intelligent auto-purification
– Monitors and displays air quality with a 4-step indicator
– Effective purification
– Sleep mode
– The turbo mode is slightly noisy
Philips Air Purifier Review
This Sharp Air Purifier FPJ30LA uses Plasmacluster technology to get rid of particles in the air in a simple 3-step process. This unit has a powerful air suction directed at a 20-degree angle which makes dust collection and air-flow quite effective.
The filters are high performance and the unit is effective for getting rid of dust particles, mold, viruses, and even static electricity. There is also a haze mode for getting rid of haze particles.
Pros
Cons
– Powerful air suction
– High-performance filter
– Quiet night mode
– Plasmacluster technology
– The packaging seems too simple and fragile
Sharp Air Purifier Review
When it comes to Philips air purifier models, you can't go wrong with the Philips Series 1000 Air Purifier AC1215/30. It features the Vitashield IPS technology and a multi-stage filtration system that is completely natural with no plasma, ozone, or any chemical emissions.
There is an auto-mode with a smart sensor that can detect and monitor air quality automatically. The air purifier will adjust its speed based on the former readings.
The filters are designed to be easy to replace. The healthy air protection function also alerts you promptly when it is time to change the air filter. This device has a touch UI that makes control seamless.
Pros
Cons
– Child lock mode
– Natural air filtration system
– Auto-mode
– Night sensing mode
– The unit runs a little too loud
Philips Air Purifier Review
The Panasonic Air Purifier PSN-FPXJ30AHM features a composite air filter which is effective for getting rid of dust, allergens, and microorganisms.
This purifier uses 3D technology which consists of both front and side airflow to effectively remove pollutants in a room.
This unit features three modes of operation including a sleep mode which allows the device to run uninterrupted while you sleep without disturbing your sleep.
Pros
Cons
– Sleep mode turns on and off automatically
– Filter replaces indicator
– The speed can adjust automatically based on the pollution level
– Portable and lightweight design
– The coverage area of this unit is quite small
Panasonic Air Purifier Review
The Sharp Japan FPF40LW 32m2 Plasmacluster Air Purifier is an energy efficient air purifier. That makes it one of the best air purifiers in Malaysia.
This unit is designed to get rid of airborne particles using high-density plasma nuclear technology that does the job well. But where this air purifier really shines is its simplicity and low power consumption which makes it such a cost-saver.
In addition to normal operation modes, this air purifier also features special haze mode, anti-dust, and clean-ion shower modes. The unit also features an air humidifying system.
Pros
Cons
– Simple and easy to use
– Power-saving air purifier
– Intuitive panel with fan speed indicator
– Auto-restart function
– This is not a quiet unit
Sharp Air Purifier Review
This Xiaomi Mi Smart Air Purifier 2S / 3 3H 3C / Pro Version Home Purifying unit offers some smart features that allow you to monitor and control the air quality in your room quite effectively.
This smart air purifier includes a Wi-Fi link feature which a smart app control that displays the current air condition in your home and allows you to control it right from your device.
The device itself features a 3-layered carbon air filter with 360 degrees barrel which makes it quite effective for cleaning up the air. The device is quite easy to use and replacing the filter is quite convenient.
Pros
Cons
– Triple-layered filter
– Compact design
– Energy-saving unit
– Smart app for seamless control
– The Wi-Fi feature settings are a little confusing
– No English manual provided
Xiaomi Air Purifier Review.
The Air Purifier HEPA Filter With Remote Control features a 4-stage air filtration system with a HEPA grade filter which is effective for getting rid of dust particles, microorganisms, smoke, and even bad odor.
This air purifier has an intelligent touch feature which makes controlling the air purifier very easy but we love the unit's remote control feature even more which makes it quite seamless.
The air filter is easy to replace and there is a filter replacement indicator that reminds you when the filter is due for replacement
Pros
Cons
– An efficient 4-stage filtration system
– Cost-saving operation
– Intelligent touch control feature
– Remote control
– Hard to find
The Blueair air purifier Classic 205 with Particle Filter gives you total control over the air you breathe thanks to its HEPA silent technology which helps to get rid of airborne pollutants and allergens as small as 0.1 microns in size.
This is an environmentally friendly unit. The air purifier features an automatic on/off timer that allows you to control when you want the purifier to be on.
There is also a remote control feature and an air quality tracker. All of these are through the easy to use Blueair Friend App which syncs with the unit.
Pros
Cons
– Track and monitor air quality
– Environmental friendly design
– Auto on/off timer
– Remote control feature
– This unit is quite pricey
The Honeywell Enviracare IFD-60000E Tower Air Purifier features an Intense Field Dielectric Plasma technology.
This device operates using a permanent air filter which means there is no need for regular filter replacement like traditional units. The device also features a built-in ionizer which helps to remove air particles and keep the air fresh at all times.
This is a high-performance unit that is just the ideal size for a medium-sized room.
Pros
Cons
– Save cost on filter replacement
– 60% quieter than a traditional unit
– Has a smart space-saving design
– Easy to clean
– The unit does not come with an instruction manual
The Deerma F525 F525S Air Humidifier Air Purifier Aroma Diffuser does not just purify the air, it also acts as an aroma diffuser and can humidify the air as well.
The air humidifier feature helps to improve the level of moisture in the air and this is easier on the skin and respiratory system. The unit has a large tank capacity of 5L and a water level indicator that shows when the water is running low.
This is an easy-to-use device with simple operation and a controller to adjust the mist level to your convenience.
Pros
Cons
– 3-in-1 function
– Mist level controller
– Auto-power off protection
– Anion and radical-free operation
– The manual is written in Chinese
You'll need an adaptor as it comes with a 2 flat pin plug
Air Purifier Build in UV Technology features a HEPA filter for getting rid of dust and allergens in the air. It also comes inbuilt with UV technology that further helps in getting rid of microorganisms.
This unit can also remove smoke and odor from the air. There is an LCD display with smart touch control functions for easy control. It also has air monitoring capabilities that allow the unit to adjust its settings based on the current air condition.
Pros
Cons
– Inbuilt UV lamp
– A Smart touch control feature
– Automatic on and off timer
– Display is non-digital
Conclusion
Hope you found this article insightful in knowing what an air purifier is and what it does. Hopefully, you'll find it easier to pick the best air purifier for your needs after reading this review.
From the review the top pick is the KL SEND Air Purifier with Built-in UV Technology. This air purifier is quite efficient to get rid of allergens as well as biological contaminants in the air.
The Air Purifier HEPA Filter With Remote Control is another great option. This unit has a four-stage filtration system, smart touch controls as well as a remote control feature for convenience.
However, any of the air purifiers on this list would make a great choice for you. The main goal is to find the best air purifier for your needs that fits right in your budget.
Hopefully, this review has helped to do just that. Comment your preferred choice or your experience with any of these air purifiers in the comment section below.
Frequently Asked Questions
1. Do air purifiers really work?
Yes, good air purifiers will likely remove or help neutralize many of the particles in your indoor air and improve the air quality. However, you should note that an air purifier is not a magical fix-all. It won't remove all the pollutants in the air. Also, not all air purifiers live up to the hype eventually. However, those with a multi-layered filtration system including a HEPA filter do the job best.
2. Is it OK to leave the air purifier on all night?
Yes, it is okay to leave your air purifier on all night. Running your air purifier all night can help you sleep better at night. The best air purifiers typically have smart sensors. These sensors allow the units to adjust performance according to the room air quality. This helps to save cost on energy bills in the long run.
3. Can air purifier protect you from potential illnesses?
Bacteria and viruses and other disease pathogens are all around us and can cause a wide range of illnesses when they are inhaled. An air purifier can potentially help remove these micro-organisms from the air, making the air cleaner. This means an air purifier can indeed protect you from some illnesses.
A good air purifier can also help get rid of allergens caused by air pollution. Left unhecked, these allergens could cause respiratory problems in those with weaker lungs. Note, however, that some air purifiers will do a better job at this than others.